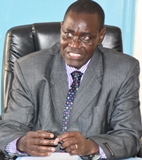 Prof. Charles Rambo Mallans
Professor of Finance, Business and Project Management
It gives me great pleasure, as Associate Dean to welcome you to the official website of Kisumu Campus.
It has been developed with the hope that it will become a valuable avenue for timely dissemination of information and interaction with students, parents and other stakeholders Kisumu campus is an external campus of the University of Nairobi located some 347 Kilometers west of the Capital city, Nairobi. It was set up as a means of the University's goal to get its quality programmes closer to the Kenyans in the wider Rift Valley, Nyanza, and Western regions.
It is organized as a unit with a focus on rigorous academic programmes that guarantee high-quality education and holistic graduands.
As a campus, we are committed to producing graduates who are not only well educated, but also mindful of the responsibilities of good citizenship. This is critical since higher education in general has a duty to develop an educated and thoughtful citizenry, which is a vital element of a successful democracy.
The campus consists of an Extra Mural Centre which was founded in 1960, and later on, the School of Business which started its programmes in 2008, followed by the School of Law in 2009, and now the Faculty of Arts in 2013. The programmes offered include PhD in Project Planning and Management, Bachelor's degrees in Commerce, Law and Project Planning and Management, and various Diplomas and Certificate programs. Plans are underway to offer Economics and Journalism programs. Our academic programmes are University of Nairobi programmes, conducted both during the day and evening.
The long-term plan is to nurture this campus to eventually offer programmes of the University of Nairobi, and towards this end, a 17-storey building is under construction at the heart of Kisumu City to realize this goal. This is coupled with the highly qualified manpower to deliver on this mission.
Please browse freely for information on all aspects of the Campus or visit us at the former British Council Library and Mega City building for more interaction.